Platform solutions
WalkMe for Salesforce®
From prospecting to quoting, forecasting, renewals, and reporting, remove the friction from essential sales workflows, so your sellers can close more deals, faster.
Request a demo
Sales is all about the numbers.
faster Salesforce® training time.

employee hours saved in the first 12 months.

reduction in Salesforce®-related support tickets.
Get up and running faster.
60% faster user adoption of features and applications.
Take productivity from good to great.
113 full-time equivalents higher net productivity.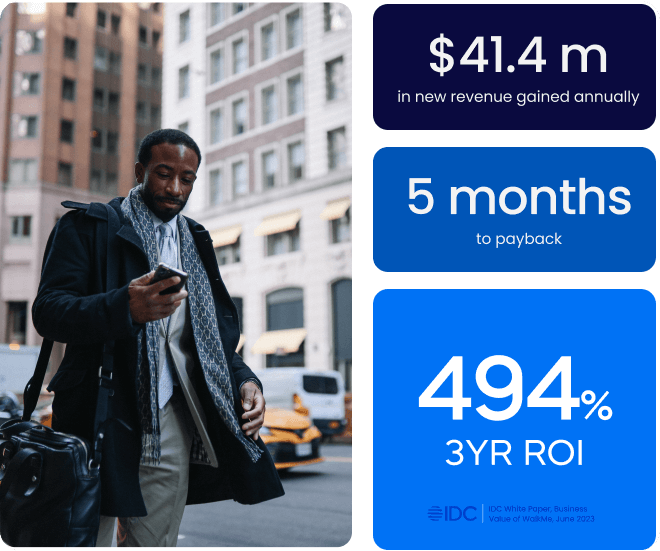 Outpace the speed of change.
30% faster change management processes.
Say goodbye to bad data.
41% fewer business processes errors.
DATA
Gain visibility into user journeys.
See how your sellers use Salesforce® – where they struggle, get stuck, and make mistakes within a field, form, or workflow. Get AI-driven recommendations to quickly eliminate the friction, ensuring data and process accuracy and preventing bad forecasting.
ACTION
Empower your sales team.
Build responsive, flexible Salesforce® workflows on-the-fly, no more waiting on your admin for a fix. Get up and running faster with pre-built experiences that address the challenges you want to solve.
EXPERIENCE
Sell with maximum impact.
Give your reps a personalized selling experience through an employee hub, offering quick access to essential resources. With advanced search and automation, eliminate the need for app-switching, streamlining processes for increased user satisfaction and productivity.
Users can now quickly find the support that they need in-tool, when they need it, with no interruption to their workflow and experience less time away from customers.
Christi Lopez
WalkMe Administrator
Leadership has become more and more reliant on quality data in Salesforce. Our digital adoption strategy [with WalkMe] means there is no excuse for not knowing what to do or how to use the system. This has made forecasts more reliable, sellers more accountable, leaders more focused on outcomes rather than inputs, and empowered our sellers to know everything that's going on with their book of business.
Jayne Hoon
Director of Customer Relationship Management
This is the first tool I've seen which allows you to be in your production environment working as you're learning along the way; there is no need to switch to yet another application. Finding a way that can scale as more and more stations move to Salesforce for donor management is critical to our success.
Becky Ley
Associate Director of Development Services
Explore more from WalkMe.