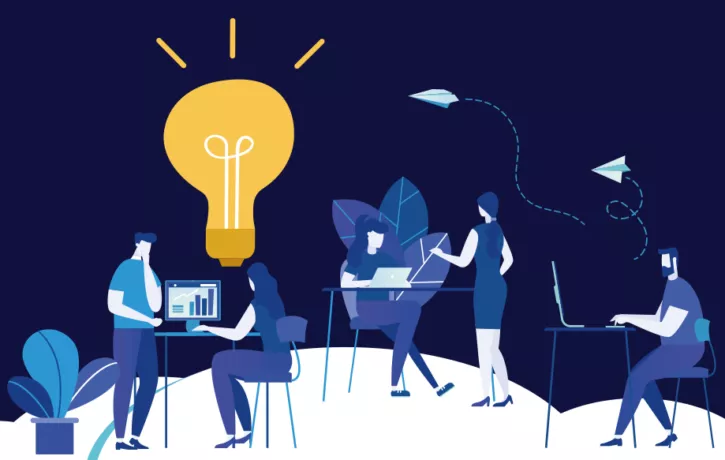 Do Humans Still Have a Place in Human Resource Management?
In 2017, the largest global hedge fund
announced
it would replace managers with artificial intelligence. As part of an attempt to standardize and improve key management duties, Bridgewater Associates enlisted a team of software engineers to develop a tool that would automate
daily management
of the firm's employees. Among its key duties, the software would be responsible for hiring, firing, performance management, and other strategic decision-making for the $160 billion company. Ray Dalio, Bridgewater's founder, said beyond the benefits of fewer errors and greater efficiency, the software would eliminate the consequences of volatile human emotions, according to
The Guardian
. It's true that your emotional state can influence how you communicate and make decisions. But is removing emotions from management really the answer? Moreover, are computers equipped to manage the nuances of
employee development
, provide feedback,
identify skill gaps
, and motivate staff?
In the age of digital transformation, where should you preserve the human element, and where is it OK to go totally digital?
Keep the human in human resource management
There is a lot more to managing a workforce than simply optimizing administration. Data and automation are integral tools, but they cannot replace the empathy and advocacy that great managers provide. "In companies that are really good at data analytics, very often the decision is made by a statistical algorithm but the decision is conveyed by somebody who can put it in an emotional context," Devin Fidler, research director at the Institute For The Future, told
The Guardian
. In this scenario, managers depend on algorithms and automation, but they aren't removed from the equation. The
human element
is still vital. The case of Bridgewater Associates raises an interesting question: How much of human capital management should be automated and how much should remain human?
Today, no department or function is immune to the pull of digital transformation. Of all departments in the organization, this tension is the greatest in human resources.
HR is undergoing fundamental changes as it increasingly embraces cloud-based HCM systems. But as systems and processes evolve, so must human resource management as a practice.
Dive Deeper: Don't Attempt an HCM Implementation Before Addressing These 5 Concerns
Digital is carving out its place
Modern
HCM systems
, like Workday®, SuccessFactors, Oracle Cloud HCM, and others, are poised to revolutionize human resource management. But
achieving the full range
of these technologies' benefits requires more than simply digitizing formerly manual processes. Traditionally, on-premise HR systems were designed to maintain consistent record keeping and reduce errors in transactional back-office processes. They essentially functioned as efficiency-enablers for HR staff. Now, HCMs allow you to
create completely new processes
and experiences that better serve the whole organization. The expanded capabilities of cloud-based HCM software make it an important tool for all employees — a single source of truth. Without relying on HR staff to provide the answers, employees can autonomously access all of their personal information, as well as information about the organization at large (the complete organizational chart, workforce productivity, and a broad range of analytics, among other things). Beyond that, they can complete processes efficiently on their own, such as requesting time off, checking their compensation and bonuses, asking questions, and monitoring their performance.
Digital is a tool, not a substitute
Effective human resource management combines robust digital software with human skills and interactions. While HCMs have the power to reform HR departments and support a positive employee experience, they are no substitute for the face-to-face meetings, empathy, and understanding HR employees provide. With a successfully integrated HCM, human resource management is no longer a back-office function. Equipped with digital tools, automation, and insights, HR personnel are empowered to work on the front lines. The key is striking the right blend of technology and humans, not replacing one with the other.
Like what you're reading? Subscribe to the blog for fresh insights delivered right to your inbox!
Usability is the linchpin to HCM success
The potential to improve human resource management with an HCM is clear. But all of the potential benefits hinge on one important factor:
usability
. Unless your users — HR staff and the rest of employees — can use the HCM optimally, it will be difficult to access information and
complete new processes
. As a result, HR staff will stick to the old way of operating, and employees will continue to rely on them to provide the answers. A solid strategy to achieve
digital adoption
on the HCM is essential. This is especially true for non-HR employees, who won't necessarily use the HCM on a daily basis. When system use isn't routine, employees tend to forget how to complete processes as time goes on. A
Digital Adoption Platform (DAP)
promotes long-term knowledge retention by operating as an "always there" guide. With
onscreen navigational guidance
and real-time support, a DAP walks users through processes step-by-step, so they can complete tasks with ease even if they forget how to do it themselves.
Make the employee digital experience seamless with process automation
Adding automation capabilities may seem at odds with efforts to preserve the human element in human resource management. But
automating mundane processes
, like requesting time off, can save valuable time and energy that can be used for handling more complex issues, like solving problems. Check out WalkMe's ActionBot automation tool here!
Human resource management: Run by humans, assisted by technology
As the realm of human resources management continues to evolve, HR leaders will need to make important decisions about what kind of technology to invest in, and for what purpose. Digital platforms like HCMs create new opportunities to increase efficiency, empower staff, and provide a better employee experience. While some tasks can be relegated to the machine, others will need to stay under humans' domain. Finding the right balance will be an ongoing effort, but achieving it is essential.
WalkMe's Digital Adoption Platform (DAP) transforms the user experience in today's overwhelming digital world. Using artificial intelligence, engagement, guidance, and automation, WalkMe's transparent overlay assists users to complete tasks easily within any enterprise software, mobile application or website. Discover how a DAP can revolutionize your business.